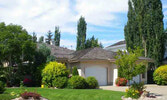 Close Finish to the 2010 Front Yards in Bloom
Judges had a tough time separating the top four homes in the 2010 Front yards in Bloom Contest for Blackburne Creek, but in the end, 929 Blackett Wynd (pictured below) took home the top prize. The honours for the home were well deserved, as last year the front yard finished second in the same contest.

Finishing a close second this year was 726 Blackwood Crescent. This was the first time that the home has finished in one of the top two spots.
Last year's winner, 927 Blackett Wynd challenged for the top spot once again, but finished tied for third spot with 199 Blackburne Drive West. This was also the first year for 199 to finish in a top spot.
As per the rules for the Front Yards in Bloom contest, 929 and 726 will be entered for the 2011 citywide contest and will carry the colours of Blackburne Creek in that competition.
Speaking of which, a second round of congratulations go to next door neighbours 927 and 929 Blackett Wynd. Both homes finished in the top 50 homes from across the city in the 2010 Front Yards in Bloom citywide competition. Hundreds of homes were entered in the contest this year.
A special thank you also goes to this year's Front Yards in Bloom Chair Sonia Hawreliak and the judges for this year's event.