Blackett Wynd Winners
You could have thrown a blanket over the top three finishers in the 2014 Blackburne in Bloom
contest. The top three homes are all located within a block of each other on Blackett Wynd and the scoring between the trio was even closer.
Coming out on top however was the home owned by Guy and Eileen Luke at 929 Blackett Wynd (pictured right). The Luke's home has been a consistent finalist nominee for more than a decade. This was the Luke's second win in five years. Their home won the contest in 2010.
Finishing in second was 907 Blackett Wynd (below left), which is owned by Brian and Elaine Hawrelak and coming in third was the winning home's neighbour, 927 Blackett Wynd, owned by Don Garry and Kathleen Edwards (below right). Less than a ten percent margin separated the top three homes and less that a single percent
age point separated first and second place.
Contest Chairperson Melissa Tilburn commended the top 20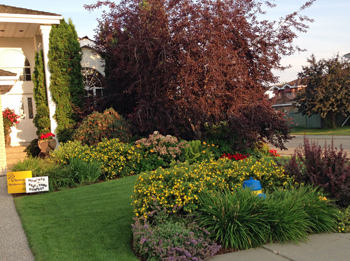 yards this year, saying all should be proud of getting to the final round of judging. Tilburn wanted to give special thanks to the four judges, including Karen, a graphic designer and employee at Ellerslie Gift & Garden, which she also thanked for providing gift certificates as prizes for the top three homes.
For the first time all judges were from outside Blackburne Creek to insure impartiality.